Back to the Learning Academy or ESG 101.
Diversity of Executive Management Teams: An Analysis of Toronto Stock Exchange-Listed Companies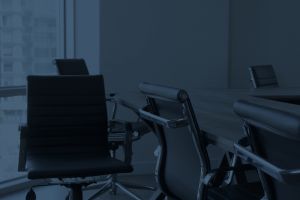 On The Board | A 4-part series
On The Board is a 4-part series of data-driven insights and analysis based on company research of public companies listed on Toronto Stock Exchange
Part 3: Diversity of Executive Management Teams
Part 4: Sustainability at the Board
*Unless otherwise indicated, statistics compiled and provided by MarketIntelWorks On The Board Tracker.
Part 3 | Diversity of Executive Management Teams: An Analysis of Toronto Stock Exchange-Listed Companies
The Role of an Executive Management Team
The Executive Management Team (EMT) of an organization is a group of senior-level executives with various functional expertise such as Finance, Sales, Marketing, Technology, Operations, Human Resources, Product Management and Legal. They hold the ultimate responsibility for driving business success through building and executing the strategy, talent management, and stakeholder engagement. But the EMT is more than a group of key executives; they can also be considered a microcosm for the organizations they represent.1
Employees of an organization may not know the names and backgrounds of their company's board of directors, but more likely, they will know their executive management team. If the EMT really is a microcosm for the entire organization, then arguably a management team should reflect the diversity of its employees. Representation and having role models on the team can have an impact. As Billie Jean King once said, "if you can see it, you can be it".2
Beyond representation, studies have shown that having a diverse EMT is directly correlated with improved business and financial performance, and innovation.3 Diversity around the boardroom and EMT tables is seen as a source of real competitive advantage.4 Board and EMT diversity go hand-in-hand because making progress in board diversity relies on progress in EMT diversity. If EMTs are more diverse, the pipeline of future leaders and future board members is also more diverse.
H1 2022 EMT Diversity Statistics
The latest numbers for diversity on executive teams of Toronto Stock Exchange (TSX)-listed companies shows progress. Looking at the broader diversity picture which includes women plus BIPOC (Black, Indigenous, People of Colour), TSX-listed companies have achieved 28% diversity on executive teams as of June 30th 2022. Specifically, the S&P/TSX Composite Index* companies have achieved 30% diversity on executive teams.
The latest numbers for women on executive teams of TSX-listed companies show that while progress is being made, it is not at the same pace as women on boards. As of June 30th 2022, TSX-listed companies have achieved 21% women on executive teams, up from 14% in 2015. Similarly, the S&P/TSX Composite Index has achieved 22% of women on executive teams, up from 15% in 2015.
Executive Team Diversity H1 2022: A Snapshot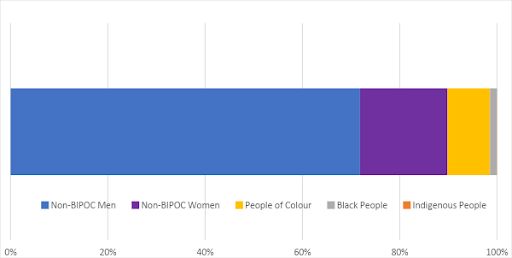 Women and BIPOC together represented 28% of the 6,289 executive team positions on TSX-listed companies as at June 30, 2022. Non-BIPOC men represented 72%.
Sectoral Analysis: Diversity on Executive Management Teams
Gender diversity on EMTs varies by sector, with Communications & Media, Utilities & Pipelines, and Real Estate being the most gender diverse and Mining, Clean Technology, Oil and Gas and Industrial Products and Services being the least gender diverse.
Percentage of Women on Executive Teams by Sector, H1 2022 Snapshot
Percentage of BIPOC on Executive Teams, H1 2022 Snapshot
In the first half of 2022, Financial Services was the sector leader by BIPOC EMT representation and Oil & Gas was the least ethnically diverse sector.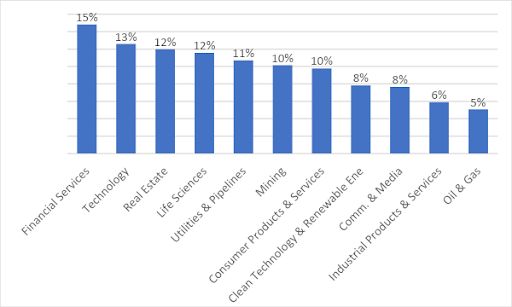 Diversity with Intent
Public corporations around the world have been either mandated by law or motivated by "comply or explain" regulations, competition, investors, proxy guidelines and ESG frameworks to consider diversity in their board appointments. This has resulted in relatively quick progress made for diversity on boards. This is not the case for executive teams. While many companies have set aspirational targets for their EMTs along with their board targets, current mandates, regulations, proxy guidelines and ESG frameworks address diversity on boards of directors only. Germany and Canada are exceptions so far. In June 2021, Germany proposed to mandate women in executive roles. This has since been approved by the Bundestag and requires that the management boards of certain large publicly listed companies include at least one woman if the management team has more than three members.5 Canada's "comply or explain" disclosure rules require disclosure on diversity on the board of directors and executive management teams.6
Diversity in Executive Appointments
Last year, TSX-listed companies made 805 executive appointments. Of these, 216 or 27% went to women and BIPOC appointments represented 12%.
In the first half of 2022, there were 589 executive appointments. Of these, 151 or 26% went to women, while BIPOC appointments represented 14%.
Within the roles of Chief Executive Officer (CEO) and Chief Financial Officer (CFO), numbers are climbing since 2015, with 39 CEOs of TSX listed companies are women (2 Black, Indigenous woman of colour (BIWOC)), representing 5% and 137 female CFOs (33 BIWOC), representing 17%.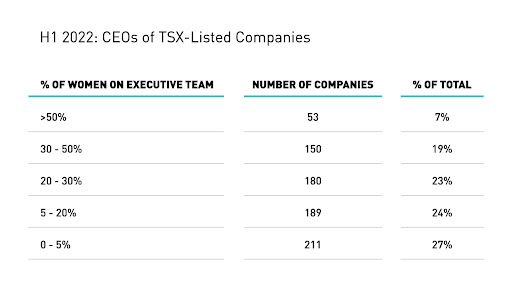 As seen in the chart, 26% of TSX-listed companies have 30% or more women on their executive teams, but almost an equal percentage -- 27%, have zero women on executive teams. Work needs to be done to move those companies from 0% women on EMTs to at least 30%. Why 30%? While the ultimate goal is parity, 30% women on boards and EMTs is an aspirational goal set by groups like The 30% Club. Past Chair of the 30% Club Global, Brenda Trenowden explains, "It's been proven that in any under-represented group it's very hard to be heard until you get to 30% and the group becomes normalized." 7
BIPOC representation at the CEO position is 53 of all TSX-listed companies, or 7%, which is made up of 47 People of Colour and 6 Black. At the CFO position, 109 companies, or 14%, are BIPOC, identifying as 100 People of Colour and 9 Black.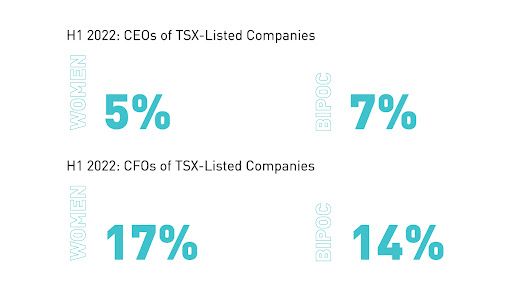 A Company's Intention
In Canada, the "comply or explain" disclosure rules on diversity has led to target setting for the board of directors and for the EMT. When a company sets specific targets to make leadership teams more diverse across all dimensions, it holds them accountable for continuous improvement.
It has been said that to expand diverse candidates' access to leadership positions requires two things: a top management team that fosters a meritocratic culture in which performance is rewarded regardless of gender and/or ethnicity; and a pool of candidates who have been given the opportunities to build the experience needed for the top jobs.8 To create the pool of candidates then requires diversity with intent, meaning hiring, mentoring and promoting diverse candidates into management positions. A diverse executive management team could result in larger pools of strong diverse candidates for future board directorships.
An intentional and structured approach to talent and performance management coupled with setting targets to put diverse candidates in the roles that will foster the skills and the confidence to take the next step up the corporate ladder are ways in meeting set targets.

For related content, take a look at the resources below, or sign-up to receive our Exchange Feed newsletter:
About MarketIntelWorks
Gina Pappano is the Founder of MarketIntelWorks Inc., a data research and analytics company with a focus on gender diversity plus BIPOC (Black, Indigenous, People of Colour) on Boards and Executive Management Teams of TSX listed companies. MarketIntelWorks On The Board Tracker is a comprehensive diversity tracking tool in Canada. Not only do we have the stats with respect to Gender, Visible Minority, Indigenous and Black representation on Boards and Executive Teams, we also have the names of the people behind the stats. Marketintelworks.com
Footnotes
Forbes, Whitler, Kimberly, June 2021, https://www.forbes.com/sites/kimberlywhitler/2021/06/05/what-is-the-executive-leadership-team-33-board-and-c-level-leaders-explain/?sh=90a0e246dbf9


All In: An Autobiography, King, Billie Jean, August 2021


BCG, 2020 and 2018, https://www.bcg.com/publications/2020/diverse-leadership-teams and
https://www.bcg.com/publications/2018/how-diverse-leadership-teams-boost-innovation


FTSE Women Leaders Review, February 2022, https://ftsewomenleaders.com/


Osler, October 13 2021, https://www.osler.com/en/resources/governance/2021/report-2021-diversity-disclosure-practices-diversity-and-leadership-at-canadian-public-companies


Osler, Jennifer Jeffrey, Andrew MacDougall, John M. Valley, July 30 2019, https://www.osler.com/en/resources/regulations/2019/canada-is-first-jurisdiction-worldwide-to-require-diversity-disclosure-beyond-gender-diversity-disc


AESC, The 30% Club: A Movement For Gender-Balanced Boards, 2018 https://www.aesc.org/insights/magazine/article/30-club-movement-gender-balanced-boards


Allianz, Women in Leadership, Why Representation Matters, February 2022 https://www.allianz.com/en/press/news/company/human_resources/220208_Allianz-women-in-leadership-why-representation-matters.html

Copyright © 2022 TSX Inc. All rights reserved. Do not copy, distribute, sell or modify this document without TSX Inc.'s prior written consent. Neither TMX Group Limited nor any of its affiliated companies guarantees the completeness of the information contained in this article, and we are not responsible for any errors or omissions in or your use of, or reliance on, the information. This article is not intended to provide legal, accounting, tax, investment, financial or other advice and should not be relied upon for such advice. The information provided is not an invitation to purchase securities listed on Toronto Stock Exchange and/or TSX Venture Exchange. The Future is Yours to See., TMX, the TMX design, TMX Group, Toronto Stock Exchange, TSX and Voir le futur. Réaliser l'avenir. are the trademarks of TSX Inc.
*The S&P/TSX Composite Index (the "Index") is the product of S&P Dow Jones Indices LLC or its affiliates ("SPDJI") and TSX Inc. ("TSX"). Standard & Poor's® and S&P® are registered trademarks of Standard & Poor's Financial Services LLC ("S&P"); Dow Jones® is a registered trademark of Dow Jones Trademark Holdings LLC ("Dow Jones"); and TSX® is a registered trademark of TSX. SPDJI, Dow Jones, S&P, their respective affiliates and TSX do not sponsor, endorse, sell or promote any products based on the Index and none of such parties make any representation regarding the advisability of investing in such product(s) nor do they have any liability for any errors, omissions or interruptions of the Index or any data related thereto.