TSX Smart Order Router
TSX Smart Order Router - Powered by Millennium IT
A smarter way to trade your way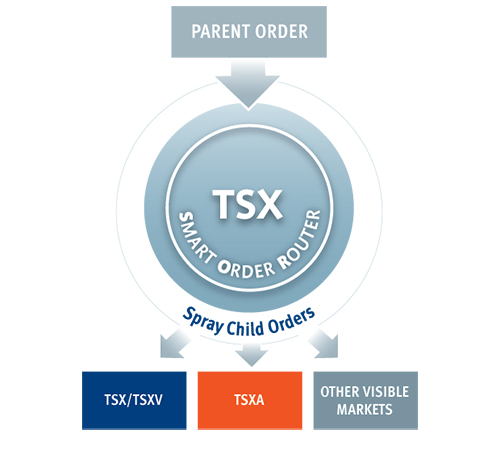 The TSX smart order routing solution is a turnkey, centralized service offering marketplace-neutral, customizable routing algorithms designed to meet regulatory best-price obligations. Regardless of how your desk connects to the equity exchanges, the TSX smart order router allows you to access all visible marketplaces through one connection, minimizing technology, connectivity, and data costs.
How does the TSX smart order routing service work?
Parent orders are sent by the client to the TSX smart order routing service. The client only manages parent orders. The router slices the parent order into one or more child orders that are sent to Canadian marketplaces to fulfill the client's obligation to respect better priced orders across marketplaces and obtain the most beneficial fills. Child orders are linked back to the parent order by the router.
The router manages all interactions with other marketplaces
The router allows clients to perform order entry using existing, familiar standards, and manages reconciliation with the unique features of other markets
The client can reconcile partial fills against child orders to the original parent order
The client can subscribe to the Automated Jitney service, which automatically gives up the trade directly to the client's jitney broker if the best price is on a marketplace at which the client is not a subscriber
How is my TSX smart order routing service account set up?
Clients need to set up separate connectivity to the TSX smart order router. TSX will then set up and maintain a user profile for each router session bundle that defines:
Default routing strategy
Default marketplace priority (Active and Passive profiles)
Marketplace access rights
Cancel on Disconnect preferences
Jitney mappings (for Automated Jitney subscribers only)
User profiles can be updated by contacting TSX Trading Services. Changes will be effective on the following business day.
Active and Passive Profiles
Clients may choose among 2 profiles for active routing and for booking residual orders. Market priority rankings within these profiles are based on placing TSX Equities marketplaces first, followed by all other marketplaces listed in order of market share. These rankings may be changed from time to time as market share changes. Please reference the SOR subscriber agreement for exact rankings. Any changes to these rankings will be communicated to all subscribers.
Routing Strategies
The TSX SOR offers a suite of routing strategies to suit the requirements of individual clients. Each strategy interacts with all visible markets one price level at a time, starting at the National Best Bid/Offer (NBBO), until orders are fully executed or available liquidity is exhausted. At each price level, child orders interact with both visible and hidden liquidity (if any), to optimize execution price and fill rates.
All strategies can be augmented by the Dark Ping option, to first seek hidden liquidity on TSX/TSXV priced better than the NBBO.
As part of each strategy, clients can choose to book residual orders on TSX/TSXV or TSXA.
Price Spray

The Price Spray strategy optimizes for speed of order execution while maximizing interactions with TSX, TSXV and TSXA – Canada's largest pool of liquidity.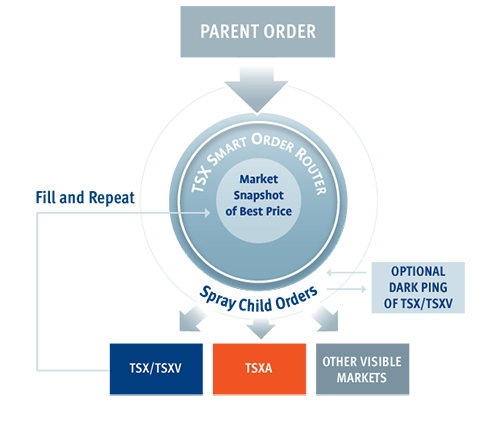 All visible markets are sprayed simultaneously, with priority given to TSX/TSXV and TSXA
Alpha First
The Alpha First strategy maximizes opportunities for interaction with liquidity posted on TSXA, thus reducing transaction costs and the number of fills.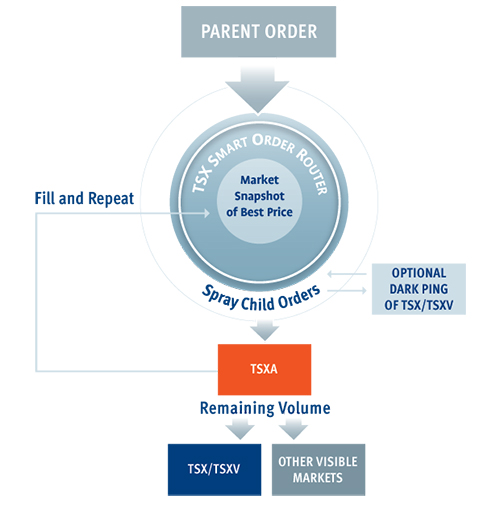 Orders are sent to TSXA first, to take advantage of TSXA's active rebates and larger-sized posted liquidity
When TSXA transaction is complete, remaining order volume is sprayed simultaneously to all other visible markets, as in the Price Spray strategy
Dynamic Volume
The Dynamic Volume strategy minimizes signaling by dynamically determining the optimal market(s) based on available liquidity in relation to the size of the order.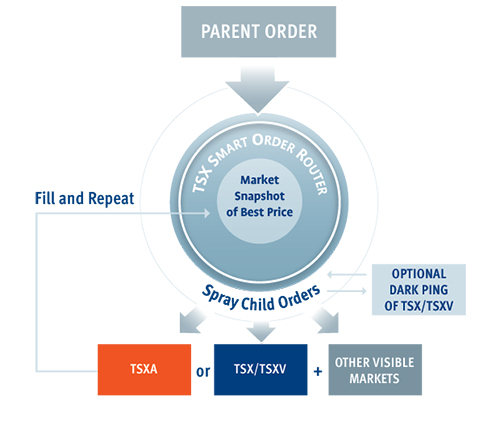 Order is sent to TSXA if it can be fully executed there, or if there is more liquidity on TSXA than on the other visible markets combined
Otherwise, order is sprayed simultaneously to all other visible markets, as in the Price Spray strategy.
Additional Services:
Directed Orders
Optionally send entire order to client-selected marketplace
Directed orders support additional order types unique to each marketplace
Directed orders do not offer Order Protection
Drop Copy
Set up a Drop Copy session for a consolidated real-time view of order and trade information from all TSX SOR order entry sessions
TSX SOR Key Benefits:
Best Price Compliant
Complete market access with full depth of consolidated order book
Low Cost
Free best-price compliant routing strategies
Reduced routing costs achieved through a consolidation of existing multiple routing services with an opportunity to reduce data costs